25th International Conference on
Neurology & Neurophysiology
London, UK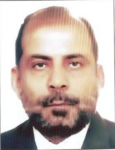 Neurologist Rahim Medical Center, Pakistan
Title: Acute complications of stroke
Notice: Undefined index: tittle in /var/www/universal_code/abstract-details.php on line 211

Biography
Biography: Hussain Ahmad
Abstract
Material and Methods: This study was conducted on 50 consecutive patients of acute stroke presenting within 7 days of onset of stroke. All patients fulfilling WHO definition of acute stroke were admitted in
Neurology unit
of LRH. Patients with subarachnised haemorrhage were excluded from study. After initial assessment for degree of
neuro-deficit
and functional status, patients were investigated for stroke subtypes and underlying causes. Daily assessment of all patients for occurrence of complication was done till discharge from hospital or death of the patient.
Results: Out of 50 patients, 24 (48%) were males and 26 (52%) were females. Mean age was 54.38 years (+/- 16.52). Patients with intra-cerebral bleed were 9 while those with cerebral infarction were 41. Median stay in hospital was 6 days. Main complications were chest infection in 12 (24%), constipation in 12 (24%), aspiration pneumonia in 6 (12%) and UTI in 5 (10%). 24 patients (48%) had no complications. Two patients (4%) died from aspiration pneumonia during hospital stay.
Conclusion: Post stroke complications are common and alter the outcome of stroke.
Multidisciplinary stroke
units are needed to decrease the complications of acute stroke.
Key words: Stoke, Complications, Cerebral Infarct, Cerebral Haemonhage.